Digital Signage, and its good friends Prezi and AirPlay
Thu, Dec 6, 2012
I got to thinking again.  Don't worry – I didn't pull a brain muscle this time.
I'm not sure if you've ever used/seen/experimented with Prezi… but I've got to say that I think, along with wireless video signage/AirPlay in general, this has to be one of the most under-utilized multimedia tools out there.  It's seriously incredible (and dead simple).  Imagine something like this running on the various displays.  For free/cheap.  And with content editable by everyday users.  Granted, it's not what people are used to…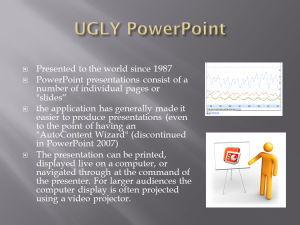 …and therefore would certainly require some level of training.  But even if introduced as something curated by someone familiar with it, for "static" signage, some very very cool animation loops could be put together on an auto rotation.  And wouldn't necessarily take a sum of tens of thousands of dollars to an external graphic designer to produce.
When I first used it, I had no idea how to work it.  So I sat down and put together this presentation for class.  Took me about 2 hours (including figuring out how to use it and topical research for the actual project).  It isn't much, but shows what might be done within a relatively short time by a novice-ish user.
By the way, I dare you to download Prezi for iOS on your iPad or iPhone, open this blog post, and click any of the hyperlinks.  Looks and works pretty killer on those devices.
Pressing that idea even further, think about how AirPlay from your cell phone or tablet might be interesting when paired with one of these presentations.  Think about having a presentation saved on the web, walking into a conference room, opening it through the Prezi app on your phone, enabling on AirPlay on your tablet/phone, and being presentation-ready within 30 seconds of walking in the room.  No flash drives, awkward silences, driver installations, or icon-filled Windows desktops.
Just some thoughts.