iPhone WiFi sync button grayed out [FIXED]
Tue, Nov 15, 2011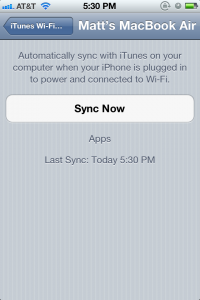 Itching to use one of the best new features of iOS 5 – WiFi Sync?  I don't blame you – it's great to be free of the required USB connection to your computer every time you want to backup/sync your iPhone/iPad.
However, you may encounter a situation where the "Sync Now" button is grayed out on your iPhone/iPad in the Settings ->  General -> iTunes Wi-Fi Sync menu.  Do not fear.  This is likely caused by one of three simple causes.
You need to plug your phone/iPad into an external power source.

You need to connect to the same WiFi network as the computer you're trying to sync with.

You need to manually enable WiFi Sync in iTunes on the computer with which you're attempting to sync.  The option to enable this can be found on the Summary tab when you connect your iPhone/iPad.  So yes, unfortunately, if you haven't enabled that option yet, you'll need to connect your phone/iPad one more time and check the "Sync with this phone over WiFi" box.