No SIM Card Installed – iPhone 4 [SOLVED]
Fri, Feb 3, 2012
Symptoms:
Error popup in center of screen that says "No SIM Card Installed"
Phone still connects to wireless, but unable to connect to cell data.
Sometimes switching Airplane Mode on and off will reconnect the phone to the cell towers, sometimes the error will appear again.
Sometimes the phone will reconnect to cell data after a reboot (or several), sometimes not.
This can happen as often as once every few minutes, to once per day.  Very annoying!
What didn't fix it:
Firmware updates
Re-seating the SIM card
Cleaning the SIM card
Putting tape over the SIM card/tray per wooservers.com article
Replacement phone
What I noticed:
My symptoms began after I got a newer refurbished iPhone 4 to replace my old one that had a small crack in thescreen, and was simply showing some wear in general.  At the same time I got a new phone, I also got a new SIM

card.  I noticed that my old SIM card I used with my old iPhone 4 had a smaller "chip" in it than the newer one I'd been using since this error began occurring: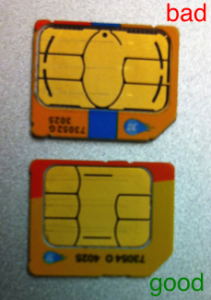 Solution:
Replace the bad SIM card with the correct size.  I had some spare ones at work I was able to procure, however, you'll likely need to stop by the Verizon/AT&T/Sprint store and have them give you one.
You should be able to simply take the old one out and pop the new one in (use a thumb tack or a pin to open the SIM tray on the side of your phone).  It only fits into the tray one way.  If it fits in the tray, you're doing it right.